MetaTrader 5 Trading Platform for Forex and Stock Markets
Platform Download
 – use one of our cluster SSL trading servers: 
trade.eqtrades.com:443
The MetaTrader 5 Trading Platform is a perfectly equipped trader's working tool that allows trading on the financial markets. It provides the necessary tools to analyze price dynamics and use the automated trading programs (Expert Advisors). The platform represents the all-in-one concept and combines everything you need to trade in the financial markets. Trading, market analysis and automated trading are integral parts of the forex trading software. It enables traders to work not only with Forex market, but also trade Options, Futures and Stock Markets.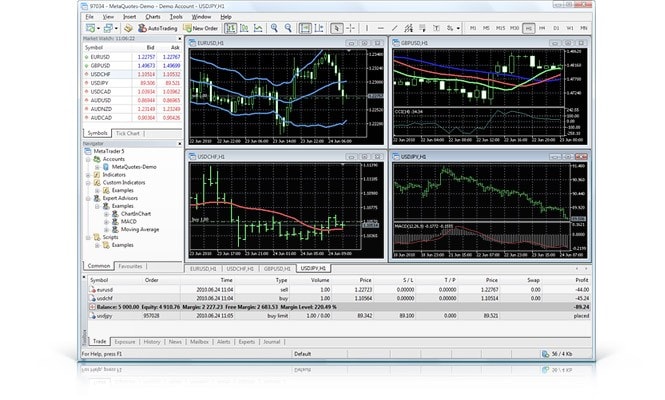 The MetaTrader 5 forex trading platform offers numerous impressive analytical features: 82 various tools including graphic objects and technical indicators allow traders to analyze stock and currency prices. There are 21 timeframes available for each market security and the possibility to open up to 100 charts at a time. MetaTrader 5 Trading Platform with its rich analytical arsenal is now available to traders.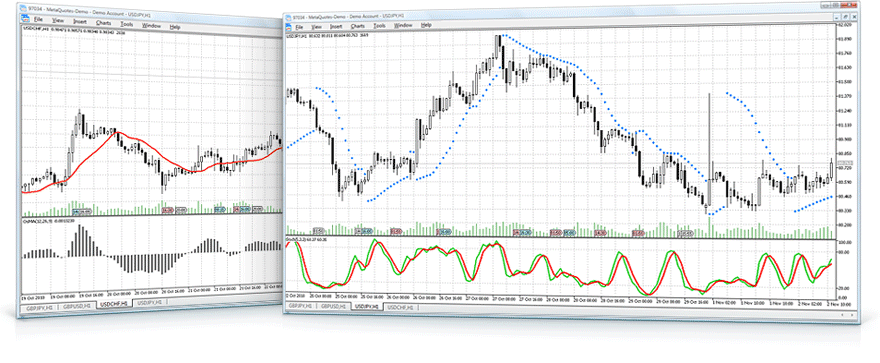 Furthermore, analytical resources of the forex trading platform are not limited to the built-in market indicators. Traders are welcome to use the free of charge Code Base or to create their own technical indicator using the new MQL5 development environment. With the high-performance MQL5 programming language you can create Expert Advisors (trading robots) based on numerous calculations and implement almost any trading strategy. This means that traders can use complex calculations to obtain the most accurate market analysis and forecast.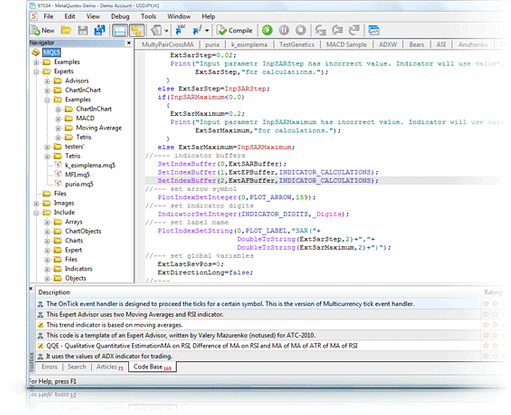 MetaTrader 5 forex software contains all the trading functions a trader will ever need. The trading platform supports four types of order execution: Instant, Request, Market and Exchange execution. All types of orders are available, including market, pending and stop orders. With such a diversity of order types and available execution modes, traders can implement any trading strategy for successful work on the financial markets.
The terminal provides all the necessary tools needed to ensure full-fledged and flexible trading activities. The powerful trading arsenal is available with a click of the mouse: trade operations, alerts, technical analysis, fundamental analysis, automated trading programs, the latest development environment MQL5, the multi-currency strategy tester, MQL5 Market, trading signals and a lot of other useful tools.
Forex and Stock Market Trading
The MetaTrader 5 trading platform is designed for operations in various financial markets – it is a multi-market platform that allows traders to trade in the Forex and Stock market. This trading software provides ample opportunities for various activities in the financial markets: trading, analyzing (technical analysis and fundamental analysis), development and use of trading robots, testing of trading strategies, writing custom technical indicators and scripts. Such versatility is intended to provide the user with a full arsenal of trading tools for seamless work in any financial market.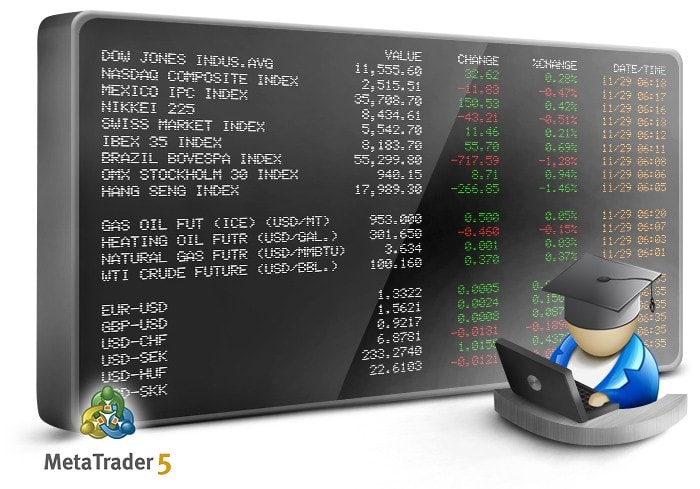 The Stock Market
You can buy and sell securities in the Stock Market. The stock market is a market of shares, futures, bonds and options – anyone who has a trading account can operate with these financial instruments. Thus, anyone has the opportunity to have the share of the profits of the most successful companies from various sectors of the economy, reduce financial risk by using futures contracts and work with financial derivatives.
Three main categories of securities include stocks, bonds and derivatives. In contrast to the Forex market with its round the clock trading, stock exchanges operate in sessions – only during office hours on weekdays. There is another difference from the foreign exchange market: in the Forex you can trade a limited number of national currencies, while in the stock market you can select any company whose shares you want to buy or sell. The main goal of the trader in this case, as in any financial market, is to buy at low price and sell at high price.
Stock exchanges are most popular in the U.S. (NYSE, NASDAQ, NYMEX, GLOBEX and others). In addition, there are stock exchanges in other countries: the well-known Tokyo Stock Exchange, LSE (London Stock Exchange) and the Hong Kong Stock Exchange (HKEx).
Thanks to the development of modern technologies, you can now trade on stock exchanges through the Internet. Stock exchanges can be accessed using trading platforms, which are multifunction programs for online trading. In such a trading platform, the user places an order to buy or sell stocks, and the broker makes a transaction on the exchange on behalf of the trader. The MetaTrader 5 Trading Platform is one of such software. It equips a user with powerful tools not only for trading stocks, but also for analyzing prices (charts, technical indicators and various analytical objects).
Almost all the functions of the MetaTrader 5 Trading Platform are also available for mobile trading: a separate version of the program for smartphones and tablet PCs allows you to trade from anywhere in the world, whenever you need it. With the MetaTrader 5 Mobile Trading Platform, a trader can follow all the events in financial markets and perform trade operations. MetaTrader 5 mobile trading platforms are free, and anyone can download them.
MetaTrader 5 also includes tools for creating trading robots that will trade in the stock market on their own. The program allows you not only to create Expert Advisors, but also to test, debug and optimize them. And with the generator of trading robots MQL5 Wizard even people without programming skills can easily create a fully functional Expert Advisor trading according to a trader's strategy. All these features are available to every trader in the stock market regardless of their experience and knowledge.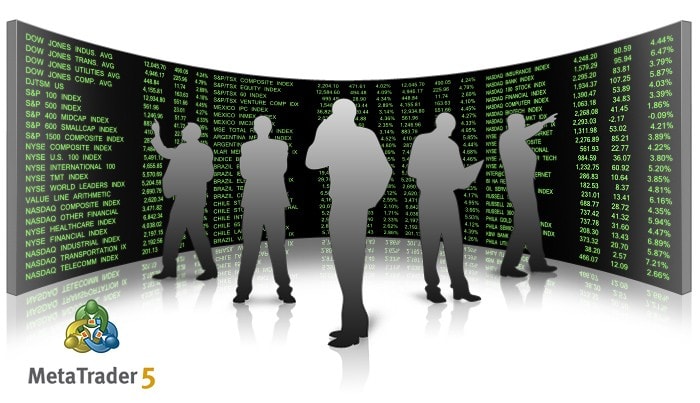 The Forex Market
Forex is an interbank foreign exchange market, the trading volume of which exceeds all other financial markets. Forex trading is available 24 hours a day via global information networks. Not only banks, but also private investors can buy and sell currencies. Their primary purpose is the same as in the stock market: buy at low price and sell at high one.
The most popular currencies in the Forex market are the following: USD (U.S. dollar), JPY (Japanese yen), GBP (British pound), EUR (Euro), CHF (Swiss franc), CAD (Canadian dollar) and AUD (Australian dollar). In turn, the most popular currency pairs are EUR/USD, GBP/USD, USD/JPY, USD/CHF.
Traders can access the foreign exchange market with the help of Forex Brokers. All that is needed is a computer with the Internet access and the MetaTrader 5 trading platform, which can be download absolutely free. The platform enables Internet trading, i.e. buying and selling currencies in the Forex market. Based on the fundamental analysis and technical analysis, the trader tries to predict the movement of the currency market: in other words, buys the currency cheaper and sells, when its price goes up. The resulting difference between the buy and sell prices is the profit of the trader.
Like with the stock market, MetaTrader 5 provides tools for mobile Forex trading. With the MetaTrader 5 mobile trading platform anyone can enjoy a full-featured and extremely comfortable trading in the foreign exchange market at any time and from anywhere in the world. It can be download for free (MetaTrader 5 iPhone & MetaTrader 5 Android). Automated trading using Expert Advisors is also available on the Forex. A robot created in MetaTrader 5 is able to analyze prices of financial instruments and trade currencies, carrying a large amount of calculations. In addition to developing robots, MetaTrader 5 includes options for writing technical indicators and other programs to run on the currency market.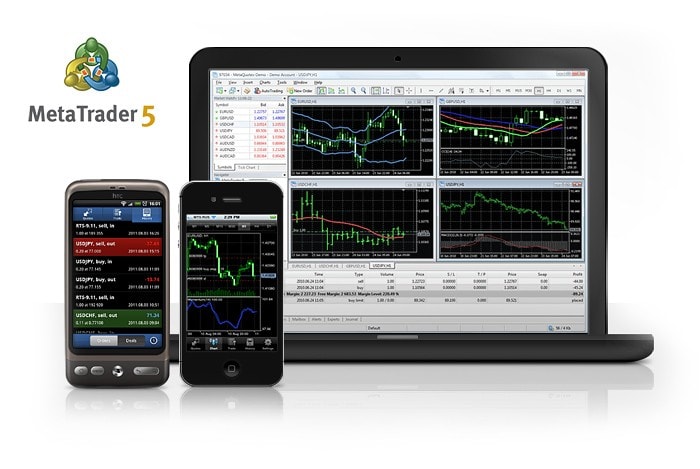 MetaTrader 5 provides a wide arsenal of tools to ensure the most comfortable conditions for you to enjoy your favorite financial market trading. Maximum opportunities, rich functionality, user friendly interface, simple and clear logic of trade – all these benefits are available for the Stock Market and Forex. Use MetaTrader 5 to the maximum: extensive trade opportunities, charts, technical analysis of prices, latest news from the financial markets, automated and mobile trading. No compromise: One platform, many markets!
Forex Trading in MetaTrader 5 Trading Platform
For successful online trading and implementation of various trading strategies on financial markets (Forex, Stocks, Futures & CFD), traders need a flexible trading system and up-to-date information about the current markets' state. Everything is included in MetaTrader 5!
The trading platform supports four modes of operation execution: instant, request, market and exchange execution. Each of these modes have pros and cons, and all of them can be used with MetaTrader 5.
If allowed by a broker, when a trading strategy requires to have a deal instantly executed, traders can send an order to execute an operation at the market price. The broker will execute the order at any price, as by giving such an order, a trader consents for its execution. On the other hand, if a trader needs to enter the market as accurately as possible, the deal will be executed specifying the price in the order. If the broker confirms the price, the trade request will be completed immediately.
Attention: the mode of operation execution is set by the brokerage firm for each financial instrument.
Orders
Any trade operation is executed through an order. This is a request to a broker to buy or to sell a financial instrument. Execution of such an order will result in a deal.

The MetaTrader 5 Trading Platform supports all types of trade requests, enabling the implementation of virtually any forex trading strategy. Market orders are used for instant execution. Traders can use these orders if they need to have their operation performed right now.
MetaTrader 5 orders system:
2 market orders
6 pending orders
2 stop orders
Trailing Stop
If pending orders are placed, these trade requests will be performed in future, as soon as the market situation will meet the specified condition. For example, buy stop is an order to buy in case the symbol price exceeds its current one. This request can be used if the trader expects that when a certain level is reached, the upward trend will continue.
Stop orders will help traders lock their obtained profits and minimize their losses. Stop orders are used in combination with market or pending orders and the trade position of a financial instrument. Pending orders are always set at a certain distance from the current price or the open price of the order.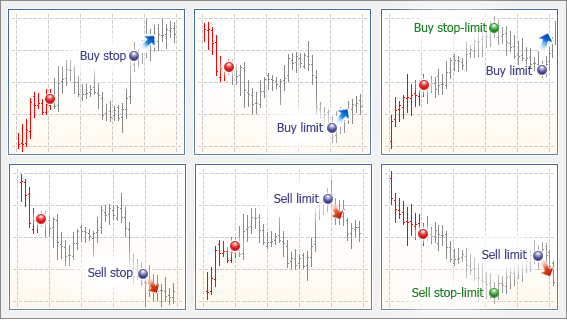 For example, a trader can place a buy stop order and set the stop loss level at 200 points below the open price. This will help minimize losses if the prediction for the future growth of a symbol price fails to materialize and the trading market turns the opposite direction.The stop loss order can be moved to the automatic mode keeping a certain distance from the current price. Trailing stop is used for "trailing" the stop loss to follow the current price, if the profit from a position increases. If price turns the opposite direction, the level of stop loss will not change. In few words, trailing stop will assist to minimize losses and increase profits.
Working with Orders
MetaTrader 5 provides several options for placing orders for maximum expediency. Orders can be placed through quotes dialog, hot keys or right from the chart of a financial instrument. With the one click trading option, orders can be placed also with one click of a mouse.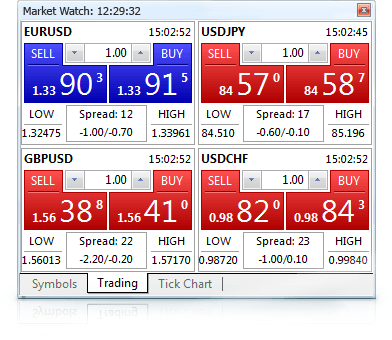 Comprehensive information about all orders and open positions is always available in the Toolbox – Trade window. Traders can track here the number of orders and positions, open prices, volumes, stop orders and their trading account state. Additionally, this trading tool facilitates access to the detailed history of all deals in this window.

Built-in trading reports are essential for evaluating the effectiveness of online trading. They can automatically analyze numerous different trade values: the profit factor, expected payoff, drawdowns, number of deals, average profit/loss and many other parameters. With this valuable information you can easily evaluate a trading system or compare the results of different forex trading strategies.MetaTrader 5 is the source for new and exciting trading forex opportunities. With its flexible trading system, forex traders can implement virtually anytrading strategy, while the complete and authentic information on the trading operations will help keep them aligned with market events!
Charts in the MetaTrader 5 Trading Platform
MetaTrader 5 charts are used for illustrating the changes in symbol prices, enabling technical analysis and utilizing Expert Advisors. This allows traders to detect symbol quotes in real time and respond instantly to any changes in the financial markets (Forex, Stock, Futures & CFD) .

Charts in the trading platform include a variety of different settings, so that traders can customize and adapt them to their personal needs. MetaTrader 5 supports three types of charts: line, sequence of bars and Japanese Candlesticks. You can set a separate color for any item in the chart to create the most comfortable workspace for long-term work.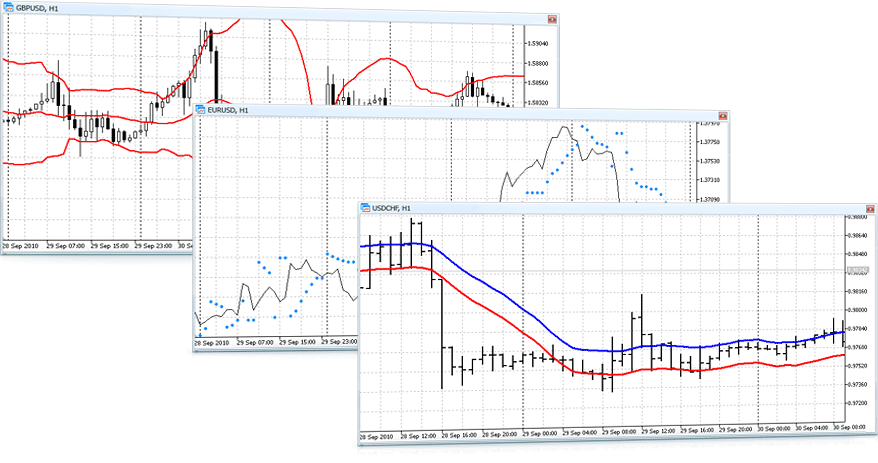 MetaTrader 5 charting system includes:
unlimited number of charts
21 period for any financial instrument
dozens of analytical tools for technical analysis
color schemes
templates and profiles
manual scaling
The trading platform provides also access to various chart templates and profiles, which makes working with charts even more comfortable. Templates allow saving color schemes and applying analytical objects on a chart, while all open chart templates can be saved in the profile. Use the templates and profiles to easily and quickly restore the working area of your platform whenever such automation is considered necessary.
There are 21 timeframes, from one-minute to one-month, available in MetaTrader 5 so that traders can choose the type of quote visualization that best suits their trading system. Moreover, it is also possible to set up visualization of additional information (tick volumes, last price and OHLC lines and others) that will help simplify trading and technical analysis.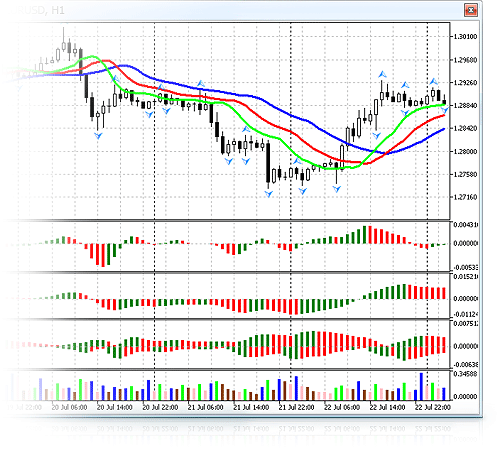 The tools provided by MetaTrader 5 charts can be widely used for analytical purposes. They offer traders dozens of built-in technical indicators andgraphic objects including the most popular analytical tools.
The analytical objects can be located in separate sub-windows or in the symbol chart. An unlimited number of analytical tools can be applied to the chart to help analyze stock quotes dynamics from various perspectives.
Finally, it is possible to construct charts based on other indicators' data. For example, traders may apply Bulls Power together with Bears Power on the chart and smooth the data using the Moving Average.
In a few words, MetaTrader 5 offers the widest opportunities for convenient and full-fledged market analysis.
Technical Analysis Software for Forex Trading
Technical analysis of the forex and stock markets is an integral part of trading. It helps identify various symbol trends, define support/resistance levels, forecast price dynamics and much more. In other words, technical analysis allows to have "a peek into the future" and use this advantage to earn more profits.
Technical Analysis tools in MetaTrader 5:
38 technical indicators
44 analytical objects
21 timeframes
minute history
unlimited number of charts
The essence of such technical analysis software is to study charts of financial instruments using technical indicators and analytical tools. MetaTrader 5 provides a large set of such analytical means. 38 technical indicators and 44 graphic objects are available for the best technical market analysis of price dynamics. In addition, you may combine all these instruments to obtain more detailed forex forecasts.
Technical Indicators
The Technical Indicator is the most important tool for technical analysis of the financial markets. It works automatically to detect different patterns in the price dynamics. Based on this information, traders can assume further price movement and adjust their strategy accordingly.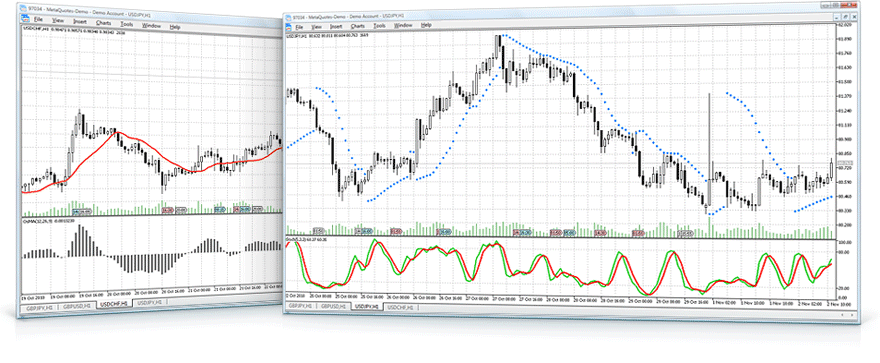 The essence of the forex indicator is to transform the accumulated history data. This provides for an opportunity to detect various peculiarities and patterns in price dynamics which are invisible to the naked eye. For example, Parabolic SAR Technical Indicator is used for defining the moments when the ongoing trend turns to the opposite direction.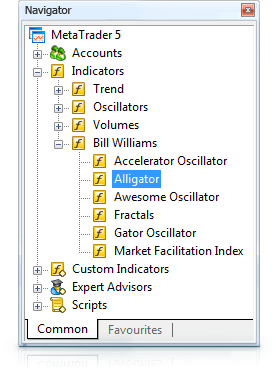 Since the appearance of financial markets many technical indicators have been developed. The most popular technical indicators are included into the MetaTrader 5 Trading Platform, so any trader can utilize them for forex and stock technical analysis. For convenience, the indicators are divided into several groups: trend indicators, oscillators, volume indicators and Bill William's tools.
Most of the forex indicators are adjustable, allowing to adapt the tools to any specific tasks. You can control both analytical parameters and settings responsible for the indicators' appearance. For example, you may change the calculation period of Moving Average as well as adjust the color, width and type of its line.
Forex indicators can be plotted on the price charts or in a separate sub-window with a specific scale of values. Moreover, one indicator can be applied over another one. For example, you may apply a Moving Average on DeMarker and obtain a line of averaged values.
In general, MetaTrader 5 offers traders an elaborate set of tools for the full-fledged technical analysis. Even the most demanding traders can use additional technical indicators written in MQL5. Hundreds of programs published at MQL5.community are available to any trader, expanding further the analytical possibilities of market analysis. Complimentary information about the additional indicators can be found directly in the MetaTrader 5 Trading Platform.
With the MQL5 development environment, traders can also create their own technical indicators. All thenecessary tools are available in MQL5 and a lot of useful information is published on the MQL5.com website.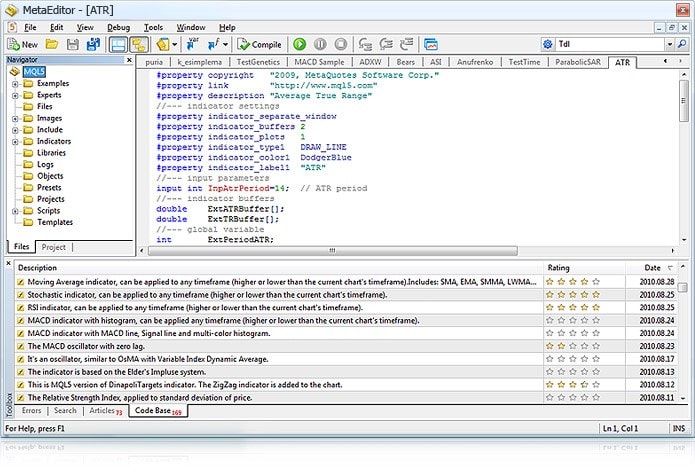 Analytical Objects
Unlike technical indicators, graphical objects must be applied manually. Identifying trends, plotting channels, defining cycles and support/resistance levels – all these and many other tasks can be solved with the help of analytical tools.
Analytical instruments can be applied both on charts and on indicator windows
MetaTrader 5 offers 46 graphical objects, each of which help simplify stock market analysis. They include geometric shapes, channels and cycles, Gann, Fibonacci and Elliott tools and much more.
Objects control is intuitive and will not cause any difficulties. To apply a tool, a trader only needs to specify a few control points to plot the object. After that the required analytical object will appear on the screen.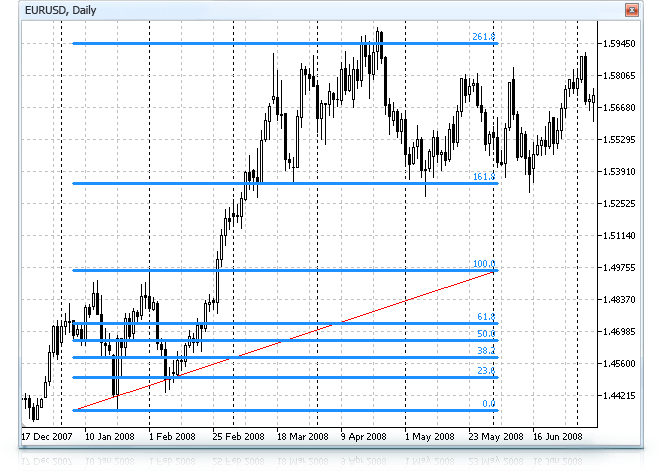 Like with technical indicators, traders can also set up calculation parameters and the appearance of graphical objects. For example, for Fibonacci lines you can set custom levels and the line color.The impressive number of technical analysis software available in the MetaTrader 5 platform covers most of the needs of the technical analyst. And with the possibility to use MQL5 Technical Indicators, the analytical opportunities of the platform seem limitless. 
Fundamental Analysis with MetaTrader 5 Forex Trading Platform
Fundamental analysis is another tool that can be used to predict the price dynamics of financial instruments. Its aim in the constant analysis of various economic and industrial indicators, which may affect the quotes of a financial instrument.
For example, publication of annual reports, news about a new contract or appearance of a regulatory law can seriously affect the price of a company's shares on stock markets. And to keep abreast you need to analyze such information constantly.
MetaTrader 5 provides a number of fundamental analysis software. Right in the trading platform you can receive financial news from international news agencies. This will help you stay updated and take appropriate timely actions.
Any news can be received in the platform. A brokerage company selects the information provider and the types of messages. This can be any information about global or national events influencing quotes of financial instruments. For example, a speech of a politician may lead to change of the rate of the country's national currency on forex market. This information can be used for traders' benefit.

It is worth noting that a forex news release is not as important as the news' contents and its possible impact on financial instruments. Each news message is unique and it should be analyzed individually. With MetaTrader 5 it is as easy as never before – news messages arrive in the platform providing all the necessary information to the trader.
Economic Calendar
Another important tool is the economic calendar. Brief information on upcoming events that can influence quotes of forex and stocks markets securities will appear here. Unlike with financial news, only events related to financial markets are published in the calendar. For example, statements by the representatives of central banks or influential financial institutions, release of economic reports and so on.
Specific information related to this news, provide accurate information in a concise manner. At the same time of an upcoming event, various indexes can be published in the economic calendar. For example, together with a report on the dynamics of the real estate market, the current and previous values, as well as free forecast values are published. In addition, the reported period or the date of a statement is specified.

With the help of fundamental analysis tools, various events in financial markets (both, Forex and Stock Markets) can be predicted. And with the economic calendar in the MetaTrader 5 this is easy and convenient!
Forex Trading Signals – MQL5 Signals service
MQL5 Signals is a great tool for traders which enables them to hook up to any signals provider and copy all of their trades.

It can help you monitor trades of successful traders and have your terminal automatically reproduce everything your target trader is doing. You choose a provider, connect to his signal – et voila! All his trades are now yours!
There is no possibility of choosing an inexperienced trader as all signals providers are carefully screened for credibility. If trader's results over the previous month are far from satisfactory, he simply will not be able to set up a subscription. This keeps you safe from connecting to a trader who will lose your money.
The use of MetaTrader 5 Trading Signals is extremely simple and very comprehensible to all users, including those with very little trading experience. There are no confusing settings to select, no worries about the execution of various agreements and papers, no manual control. Everything is fully automated to the maximum extent possible.
The MQL5 Signals service is beneficial to both users and those willing to sell their signals. Traders can simply subscribe to the signals provider of their choice, and the signals provider gets a fixed monthly subscription fee from all his clients directly from the system with no extra effort. The sale and purchase of trading signals is a simple process due to the range of payment systems supported.

Video tutorial: MetaTrader Signals Service
What Is So Special About MQL5 Signals?
It is a simple and ready-made solution. Subscription is performed in a few clicks. All deals are copied automatically without trader's intervention. Signals providers will also be able to start easily – it will take less than a minute to add a signal to the base and set a subscription fee.
High security for all the participants. Careful selection is performed among signals providers – they work in a test mode within a month. If the test is passed, they can offer their signals on MQL5.com.
Subscription and signals purchase rate. No agreements between subscribers and providers are required. Signals providers put their products up for sale while subscribers choose the most suitable ones. That's all. There is no excessive bureaucracy. There is no tedious work with bunches of papers – all processes are performed strictly inside the system avoiding any kind of paperwork.
Signal subscription can be purchased easily. If you are interested in any signal available for a paid subscription, you can subscribe to it easily.Multiple payment systems supported by MQL5.com simplify the process greatly. WebMoney, PayPal, bank card – select any payment method you like!
No commission. Signals service does not charge commission from the subscriber's traded volume.
Access to the largest market. Signals providers gain access to all MetaTrader 5 users. All traders using the trading platform in their activity can choose and quickly subscribe to any signal available in their terminals.
There is no need to constantly keep your terminal online. The system of Trusted Execution Token (TET) is to be implemented soon. In this case, all deals will be copied automatically even if the terminal is not launched. Therefore, it will not be necessary to run MetaTrader 5 continuously.
Trade Alerts in the MetaTrader 5 Forex Platform
Currency and share trading on the financial market can become more flexible and mobile, while the reaction to the significant events can be faster. For this purpose the MetaTrader 5 Trading Platform offers the possibility to use trade alerts.

Set an alert to notify you on trade events and stop worrying – the opportune moment won't be missed on the market. And you don't need to spend hours sitting near the monitor and watching the price movement – at the right moment the trading system will notify you with a sound or an email.
In addition, you can run special programs and free applications that will notify you of the occurrence of trade events. For example, you can arrange the delivery of notifications from the trading station to your mobile phone in an SMS. Thus you stay updated of the latest events in the financial markets whenever you are.

With the alerts you don't need to monitor the stock chart or forex chart every second waiting for some trade events. The trading platform allows setting up specific conditions under which a trade alert shall trigger: e.g. when Bid and Ask prices increase certain values, or the time of exchange news release. Suppose the current price breaks the the level you have specified – immediately a trading alert will trigger. And you get instantly notified of the important news release affecting the price dynamics.Alerts in MetaTrader 5 Trading Platform – the fastest notification of important events for your trading on Forex and Stock Markets!