Mobile Trading Platform MetaTrader 5
MetaTrader 5 Mobile Trading provides the possibility to manage your trading account from anywhere in the world (Mobile Trading). Having a smartphone or tablet PC, you can keep up with financial information and conduct trade operations in financial markets: Forex, Stocks, Futures and CFD. The rich functionality of the Trading Platform now fits in your hand with MetaTrader 5 Mobile Trading!
Mobile trading software MetaTrader 5 is your daily assistant and an indispensable working tool. Stay mobile and trade, keep up with information on financial markets and analyze it – with MetaTrader 5 Mobile Trading Platform you can do it 24 hours a day.
You want to open a trading position in the morning while you are in London and then close it in the evening when you reach New York? No problem! With the MetaTrader 5 mobile trading software it could not be easier.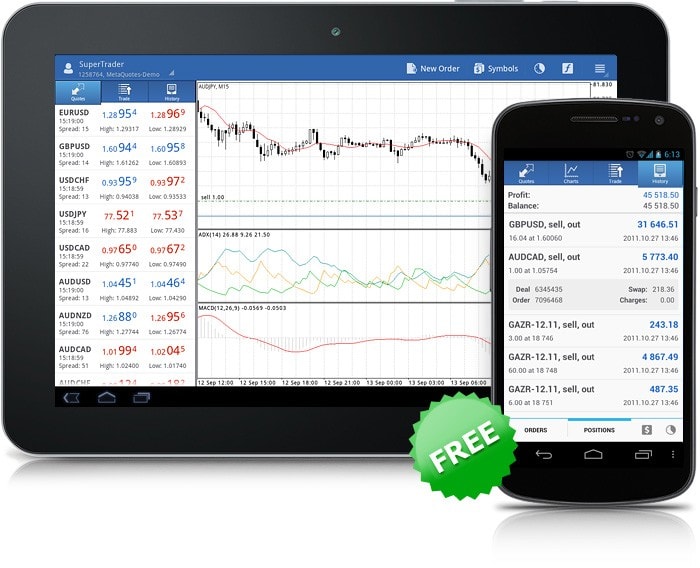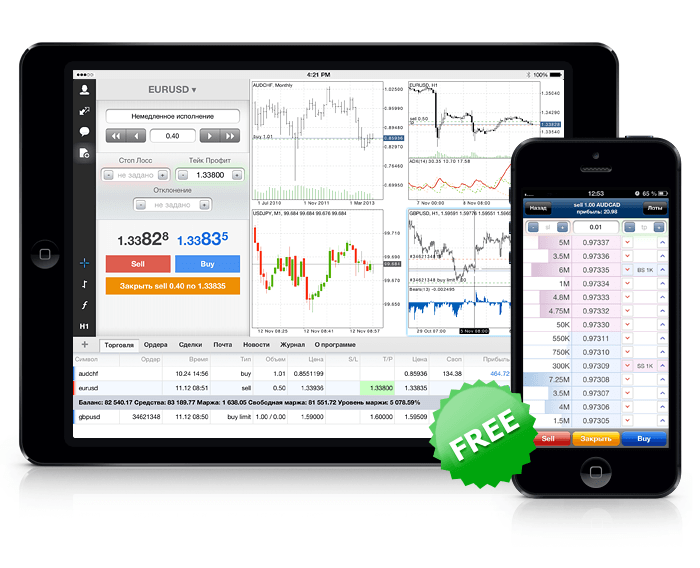 · ·
Mobile trading with MetaTrader 5 offers you mobility combined with convenience and a rich set of handy trading tools. The MetaTrader 5 Mobile Trading is available on smartphones and tablet PCs based on the popular iOS and Android platforms.
MetaTrader 5 – iPhone/iPad Mobile Trading Software
MetaTrader 5 for iPhone/iPad is a mobile trading software, that allows you to connect to a trade server, receive quotes, trade and view the history of your trades. With this mobile trading software, you get advantage of the full trading functionality available in the desktop version, combined with portability. Buy and sell, place stop orders, modify position volume, work with pending orders, analyze market, using technical indicators and enjoy mobility with MetaTrader 5 Mobile Trading Software for iPhone/iPad.
An important feature of the MetaTrader 5 for iPhone/iPad is the availability of interactive charts. They can be scaled and scrolled, as well as their period can be changed from a minute to a daily timeframe. These features greatly help to conduct technical analysis and add visibility to mobile trading.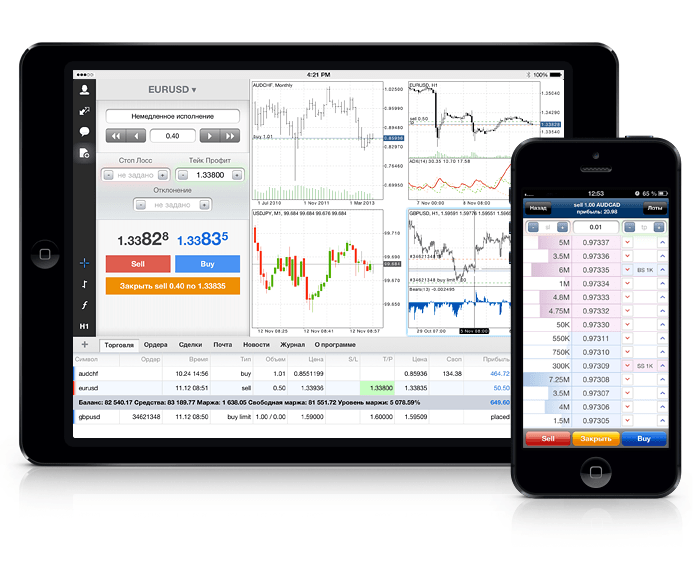 Another important feature of the MetaTrader 5 for iPhone/iPad mobile trading platform is support of technical analysis. Currently 30 various indicators are available in the MetaTrader 5 iPhone/iPad. In the application, you can open up to 10 indicator windows at a time. Moreover, you can apply a technical indicator to the main chart window or to other indicators.MetaTrader 5 Mobile for iPhone/iPad is free of charge. Just find the program in the AppStore and download it to your smartphone. Then find your broker in the brokerage firms list, open an account and start trading in mobile. It is as simple as that.
The application is designed for use on iPhone 3G/3GS/4, iPod Touch and iPad with iOS 4.0 and higher. The terminal requires a cellular network or Wi-Fi connection.
Convenience, rich functionality, enhanced charting features and technical analysis – the benefits of the MetaTrader 5 Mobile Trading Software for iPhone/iPad are obvious.
MetaTrader 5 – Android Mobile Trading Platform
Mobile trading with the MetaTrader 5 for Android is an exciting possibility to trade in the Forex and Stock markets using smartphones and tablet PC's powered by Android OS. Wherever you are, you will be able to monitor your account, view trading history and trade in financial markets.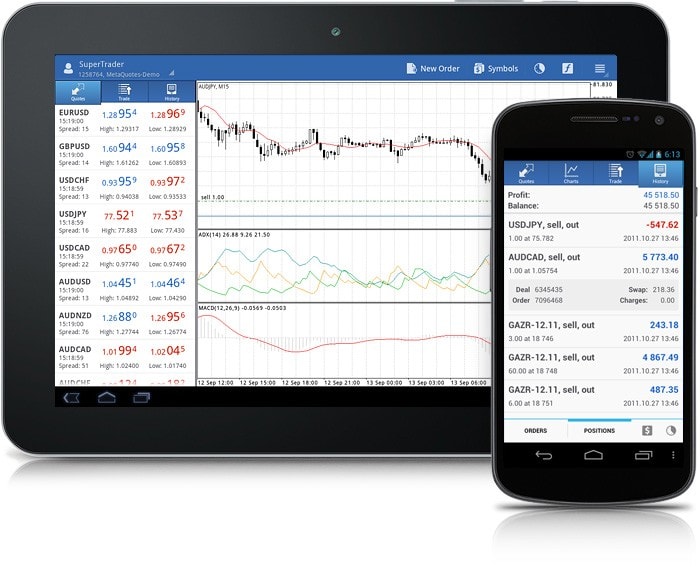 The MetaTrader 5 for Android, like the mobile trading platform for iPhone, is absolutely free of charge. To start working with the application, simply download the MetaTrader 5 for Android in the Android Market and run it. After that you only need to open an account, selecting your broker from the list. That's all, financial markets are now in your pocket!